---
next PZ lens test report: Olympus M.Zuiko 12-100mm f/4 IS PRO - JN - 05-14-2017


Quote:Yes, it broke my heart when I sold it.  I'd very hard to tell whether the Oly is better. I used the Leica on a 10mp camera (the L10 - ah, a heavily underrated camera).  The thing is that the Leica was fully corrected (just 2.9% barrel distortions at 14mm) so it didn't rely on auto-correction. That should put it into advantage at the wide end at least.


Thanks for your feedback on that Klaus. I was thinking the same, i.e. probably less auto-correction on the Leica. I use it with an adapter on a second-hand Oly. em1, AF works not too bad because of the phase detect, better than say, GH4, pretty poor with only caf. The IS is also pretty good with the Olympus EM1.


Of course the olympus has less ca's and doesn't need an adapter, lots of exotic elements etc. better AF. If I didn't have the Leica I'd probably go for the Olympus.


---
next PZ lens test report: Olympus M.Zuiko 12-100mm f/4 IS PRO - Austrian - 05-15-2017

Dear Klaus, dear all!

 

Thanks again for the informative test as usual.

 

I d like to mention the Panasonic 14-140 3,5-5,6 as a candidate for comparison.

 

I think it is good to very good, better then the previous version tested hier on PZ on 12MP.

 

The interesting thing is that it is roughly half size and weight compared to the Oly 12-100. And this is why, for me this lens is a real differentiator for mFT compared to other systems when one need a universal zoom in a very compact package.

 

Mine is a GM1 and this 14-140 with less than 0.5 kg, which is the basis for me using this kit e.g. for action or landscape high up in the mountains.

 

The only other universal zoom lens in that weight class is the  Nikon 1 10-100 (sensor too small) and recently the Canon EOS-M 18-150, so lets see.

 

Any experiences with this Pana 14-140 in the PZ forum? Klaus, have you touched this lens or any plans for a test?

 

Thank you and all the best

 

Andresa




---
next PZ lens test report: Olympus M.Zuiko 12-100mm f/4 IS PRO - thxbb12 - 05-15-2017

Indeed, the Pany 14-140 mkII is quite a bit smaller than the 14-140 mkI as we can see here: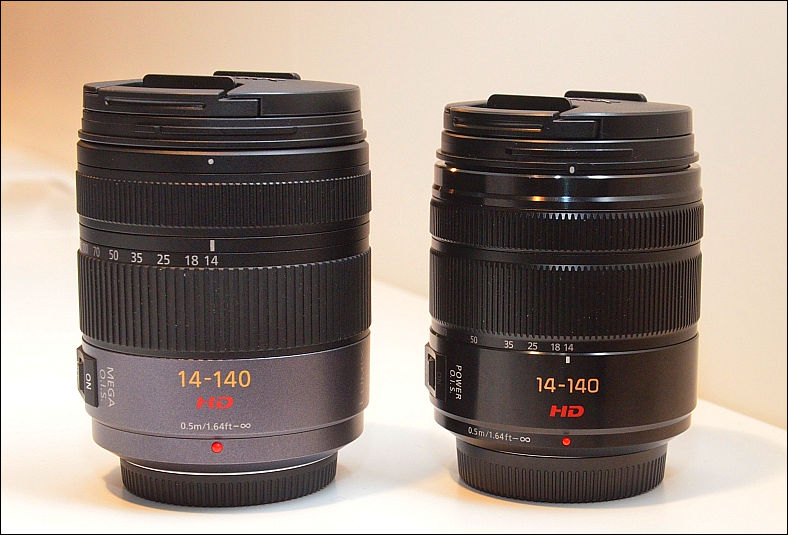 In fact, the mkII is almost the same size (very slightly larger) as the Pany 45-150:

 




 

Here is a comparison of the size of the 3 lenses (Pany 14-140 mkI, Pnay 45-150 which is the same size as the mkII and the Oly 12-100):

 




 

That would be very interesting to see how well the mkII fares here at PZ.

Klaus, do you have any plans on reviewing it?



---
next PZ lens test report: Olympus M.Zuiko 12-100mm f/4 IS PRO - Klaus - 05-15-2017

I'm aware of the itch at least ... 


However, the two Leicas are clearly first.




---