Quote:I find the DXO overall score a bit misleading as it's highly biased towards base ISO.

This is what saves the D850 against the A7II.

A more interesting and arguably more accurate way of gauging sensor overall performance is to look at the various graphs (SNR, dynamic range, colors).
Talking about Dynamic range: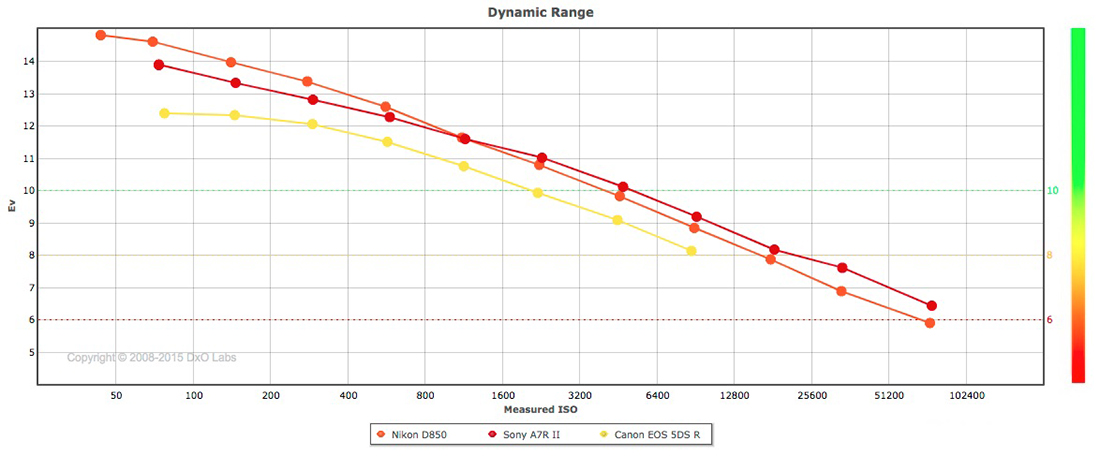 It's after ISO 1000 when the Sony A7RII gets slightly better. And I doubt if the "advantage" of the D850 or A7RII is visible - but the D850 still has a lot features not available for Sony users, so I think it's bold to say Sony or Sony's sensor is better.  
I expect Sony to come up with an A9RII at some time which leaves the D850 in the dust of only 100 points, but so far and at given prices, the D850 remains affordable and the current "only 24MP" A9 already is 1000.- more expensive  
DxO claims "sports"  ratings in hand of Sony. Rank 1-3 is Sony, 4 is Pentax, 5 and 6 Nikon and the first Canon appears on 7 - I don't know if that's showing reality?